Products Ecommerce Components - Product Browse By Category Page
A page showing the list of available product categories to choose from. This can be graphical where a category image is uploaded to represent each category or a simple stylised text list of categories.
Categories are clicked on to reveal a list of subcategoires
Where only 1 subcategory exists, the page will forward to the list of products
Category page adjusts size and layout across different desktop and mobile devices
Standard Category
In the Header area - e.g. top panel of web site
Desktop Sites - On left menu above product category listings
Mobile Sites - Search area expands out after clicking search icon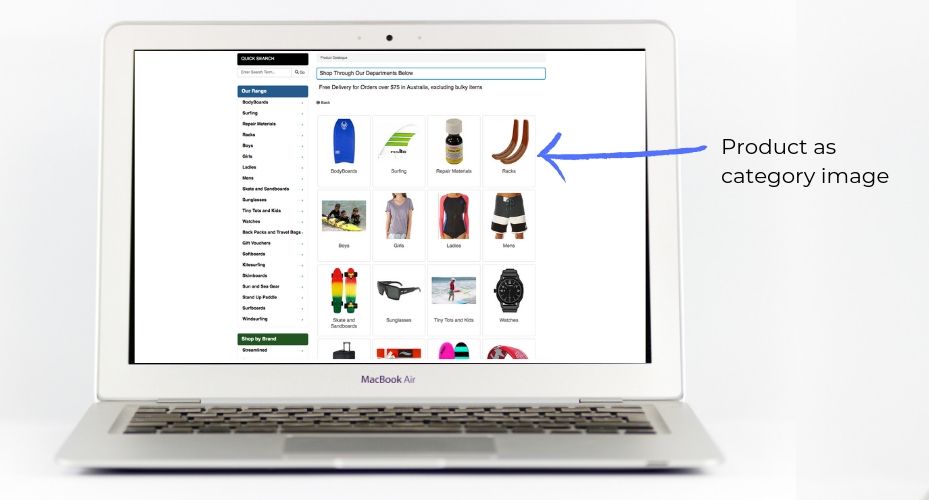 Category Page Styling
This component covers the usual styling of the product category page results to match your web sites product layout and style
What is not covered
Uploading of all product category images. We will Upload up to 10 product category images in this package. You are responsible to upload images for other categories easily through the CMS
Where the styling or functionality specified is above and beyond standard category page features. Customisations to category pages can be quoted on an as needs basis. Note: this is not generally needed
Where do I Upload and Change Category images
Log into the CMS
Click in Images >> Manage Images
Click on a category name and then browse and upload your image
People with similar tastes also viewed...
by Angela Kempin on 2023-01-16

Possibly Perth's cheapest and best recording studios located conveniently at 385 Newcastle street in Perth have hit the big time by recording some of Perths best, yet to be known artists in their state of the art recording studio.

Read Post

by Angela Kempin on 2022-12-12

The Point Of Sale system is considered the most important tool in the hospitality industry because it

Controls Everything
Measures Everything
Enables you to accurately take money
& Can be used to generate informative reports
Plus much much more.

Perth hospitality business owners can find our more at POS Systems Perth and by visiting MCR Cash Register with their local, national and internationally proven and maintained POS Software Solutions.

Read Post

by Angela Kempin on 2022-09-15

Read Post