Mega Menu of Product Categories or Subcategories for E-commerce Products.
DESKTOP EXPERIENCE
When your users mouse over your SHOP link in the top navigation / header section of your website a mega menu is a great way to provide a fast direct link to your product categories or subcategories.
This leads to reducing the number of clicks by 1 to load in products for browsing.
Examples of Mega Menus can be found on sites like https://www.cellarbrationssubiaco.com.au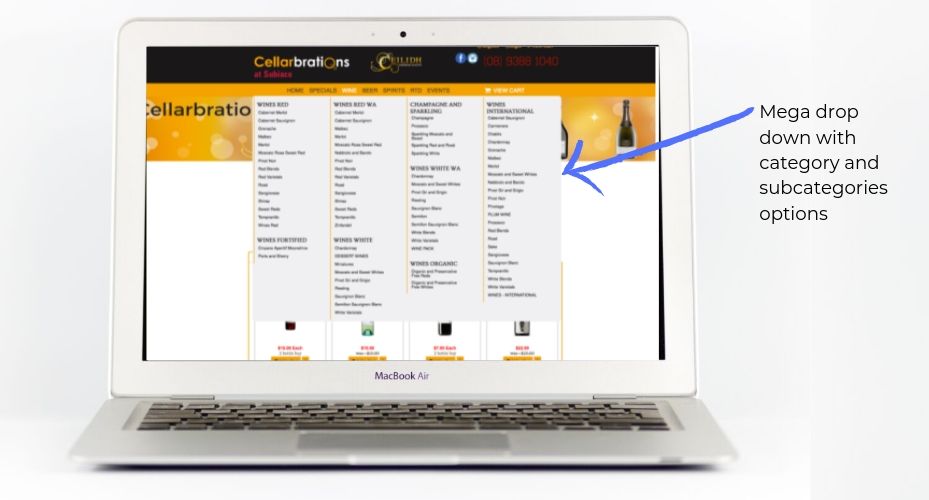 Mega Menus take time to code, style and layout.
MOBILE EXPERIENCE
A mobile site is usually impractical for a mega menu and so the shop link loads in the category display
More products that other people also viewed...
by Angela Kempin on 2023-09-08

Are you a farmer, rancher, or rural business owner seeking financial clarity and success?

Let's dive into how we can make your financial journey smoother with our expertise:

Read Post

by Angela Kempin on 2023-05-08

Rubbish removal is crucial to maintaining a clean and healthy home environment, but it can be a challenging and time-consuming task. Here is why you should be calling Alex from Amigo Rubbish Removal Sydney.

Read Post

by Angela Kempin on 2023-04-05

Families in Perth, Western Australia are facing a growing wait list for autism assessments and therapy. According to recent reports, families are waiting up to 18 months or more to access essential services for their children with autism spectrum disorder (ASD).

Read Post