Product Page - Page Displaying Individual Product.
Everything leads to the show product page where you get to do showcase all the great things about your products using photos and descriptive text.
This is an critical page showing the product, its options, imagery and descriptions.
The key to sales is to provide detailed information for each product and good images.
There are many components and functionalities with a GTP product page that are available by default or can be coded into a product listing page and the choices made will depend on the type of products being offered.
Common GTP Show Product Elements Available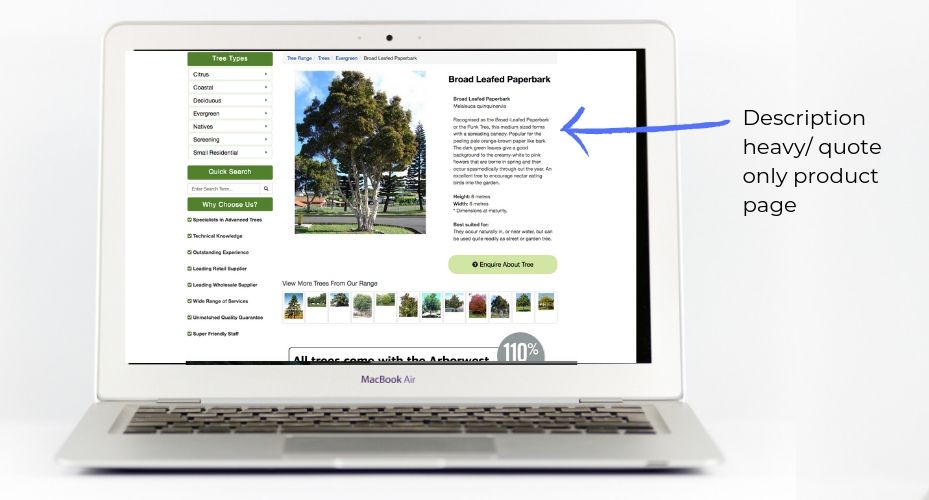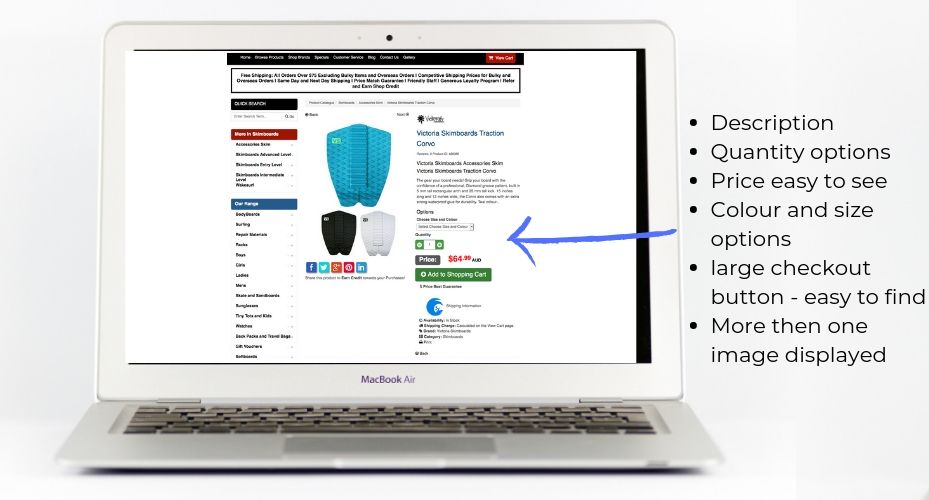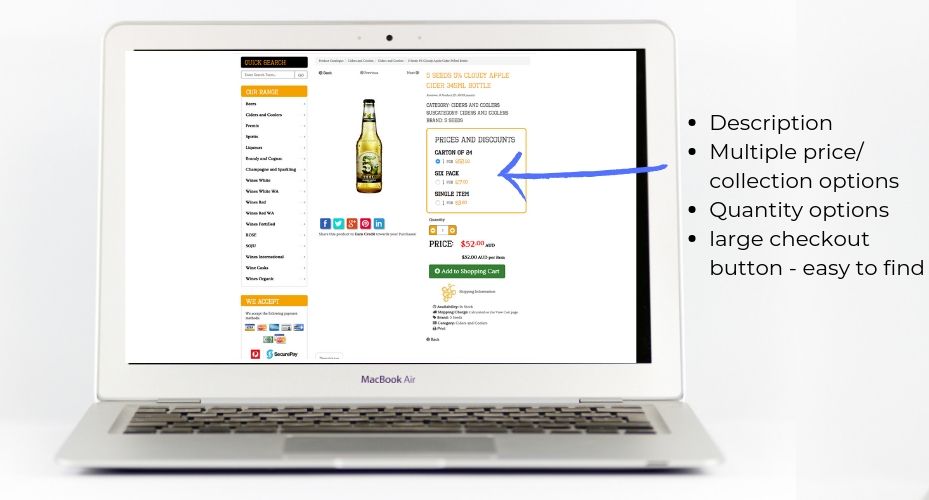 Product Image Components
Upload multiple images
Images resized and compressed for different devices automatically
mouse over images to see enlarged images
click on image to open enlarged window
mouse over small images to see larger images
Add more images via description area as well
Add video via description area
Embed YOUTUBE and other embeddable video content (e.g. VIMEO)
Product Description Components
Create tabbed description section to break up content
Add images within description area
embed video in description area
Use WYSIWYG editor for description or edit HTML
Product Page Other Features
Show if in Stock
Pop Up Shipping Information (standard)
Pop Up Size Chart Information Where Needed *
Print Page
Tap and Click QTY Changes
Product Pricing Features - Standard
Multi pricing levels available determined by login status - Good for wholesale as well as retail
Special Prices showing savings
Specials prices controlled by start and end dates so can pre pre prepare sales
Currency Converter
Master - Slave Products where slave products have different prices
Slave products when selected change price information
Master Slave Pricing is good for when you have the same product in different size and colour options
Add on Features
Product Reviews Listings and Star Ratings (Add this module elsewhere)
Product Review Engine (Add this module elsewhere)
Social Media Features
Opengraph tags for Facebook, Twitter etc
Share products via social media links including facebook, twitter and pinterest. - These are the important ones
Usability Features
Add to wishlist (Add this module elsewhere)

breadcrumbs navigation
Customisable content above and below products being listed
Well structured SEO features for URL structure
Customisable meta title tag
Customisable meta description tag
Grid layout of product images using optimised images of multiple sizes and compressed
Optional inclusion of small product brand images with each product
Product name linked through to more details
Pricing information.
More Info button
Add to wishlist functionality
Links to other subcategories
Recently viewed products module
Sort by functionality by price, name, brand and others can be added
Microdata and Opengraph data
Breadcrumbs navigation
Ability to add same freeform content - e.g. graphic advert or promo to bottom of each list product page by editing in one area once.
Individual customised content for each subcategory as well.
Responsive layout to adjust to different resolution/siezed desktop and mobile devices
Layed out with left or right menus or excluding menus.
Ability to overlay marketing and promotional images such as SALE, Special, For Sale, Sold, Deal and other graphics you can create and upload yourself as well.
Component Add Ons to this page
Quick View Pop Up function for desktop viewers to not leave page but see more detail *Quickview is Additional as the quickview display requires custom styling
Ability to add to cart from list product page (off by default - Note not available if products have options to be selected. In this case you click through to full product details). This customisation requires additional investment.
What is Covered
Styling to site style and required list products styling
Creation of required functionality
What is not covered
Uploading of product images. This is data entry of products which can be done by you via the CMS or added as data entry elsewhere.
Content entry
Where the styling or functionality specified is above and beyond standard list product page features. Customisations to list product pages can be quoted on an as needs basis. Note: this is not generally needed.
Where do I Upload and Change Product Images
Log into the CMS
Click in Products
Click List and Edit Products
Find your Product and upload an image for it
There are several product search and browse functions in the CMS to suit different purposes.
People with similar tastes also viewed...
by Angela Kempin on 2023-09-08

Are you a farmer, rancher, or rural business owner seeking financial clarity and success?

Let's dive into how we can make your financial journey smoother with our expertise:

Read Post

by Angela Kempin on 2023-05-08

Rubbish removal is crucial to maintaining a clean and healthy home environment, but it can be a challenging and time-consuming task. Here is why you should be calling Alex from Amigo Rubbish Removal Sydney.

Read Post

by Angela Kempin on 2023-04-05

Families in Perth, Western Australia are facing a growing wait list for autism assessments and therapy. According to recent reports, families are waiting up to 18 months or more to access essential services for their children with autism spectrum disorder (ASD).

Read Post