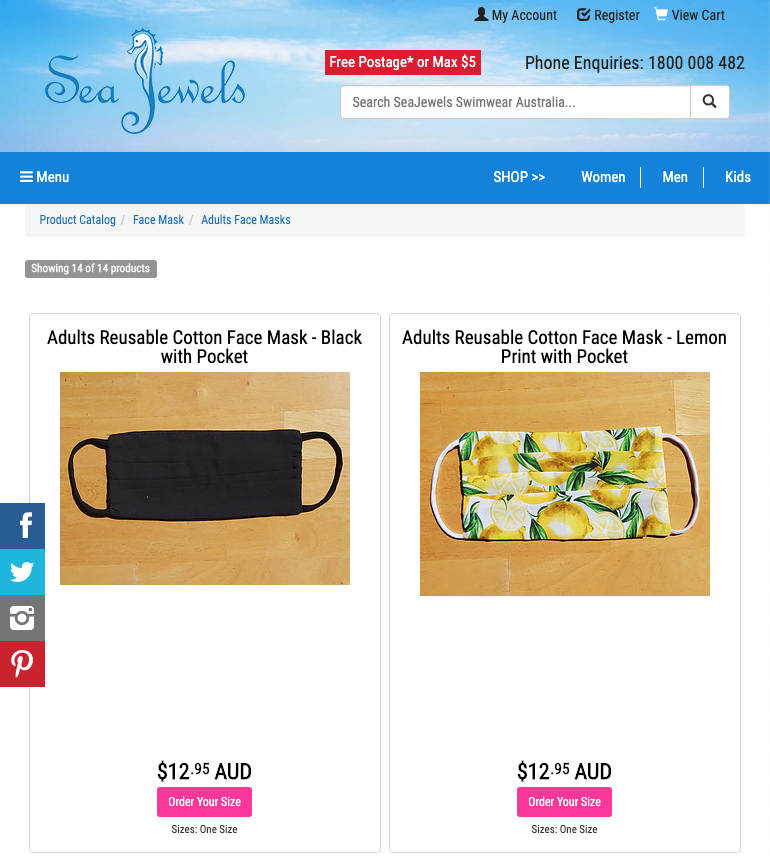 Sea Jewels Swimwear whose swimwear sales went into rapid decline with swimming pool closures and holiday bans during the Covid-19 - Corona Virus) outbreak has begun making facemasks.
Made out of cotton, cotton has been found to block betweenr 50%- 70% of particles in a number of studies and for shoppers going into shopping centers this is better than 0%.
Plus wearing a facemask makes you intently consious when you go to touch your face which is the main way viruses get spread from surfaces to your nose, mouth and eyes. This may be the main benefit of a facemask for shoppers.
So by putting on the mask before you get out of your car and going shopping you can do your shop, avoid people, avoid touching your face and then when you get home put the mask in soapy water to dissolve any virus particles you may have picked up.
Make sure you wash your hands in soap after taking the mask off for 20-30 seconds as well.
Then dry it your mask after a wash and its ready for the next time you go shopping.
Here is one report on various materials for facemasks
https://smartairfilters.com/en/blog/best-materials-make-diy-face-mask-virus/
And while the masks are not N95 standard, which the public cannot get anyway as medical practitioners and health workers who are in the real firing line need them, We do think that some protection is worthwhile.
Facemasks can be purchased online from this link.