Universal Plumbers Case Study/Showcase
Ray at Universal Plumbers, a Perth Plumber and Gasfitter has been an SEO client of ours for a while now, we started work for key terms such ad backflow prevention and servicing and burst pipes (with a surrounding suburb keyword).
These keywords are now at #1 spot on Google!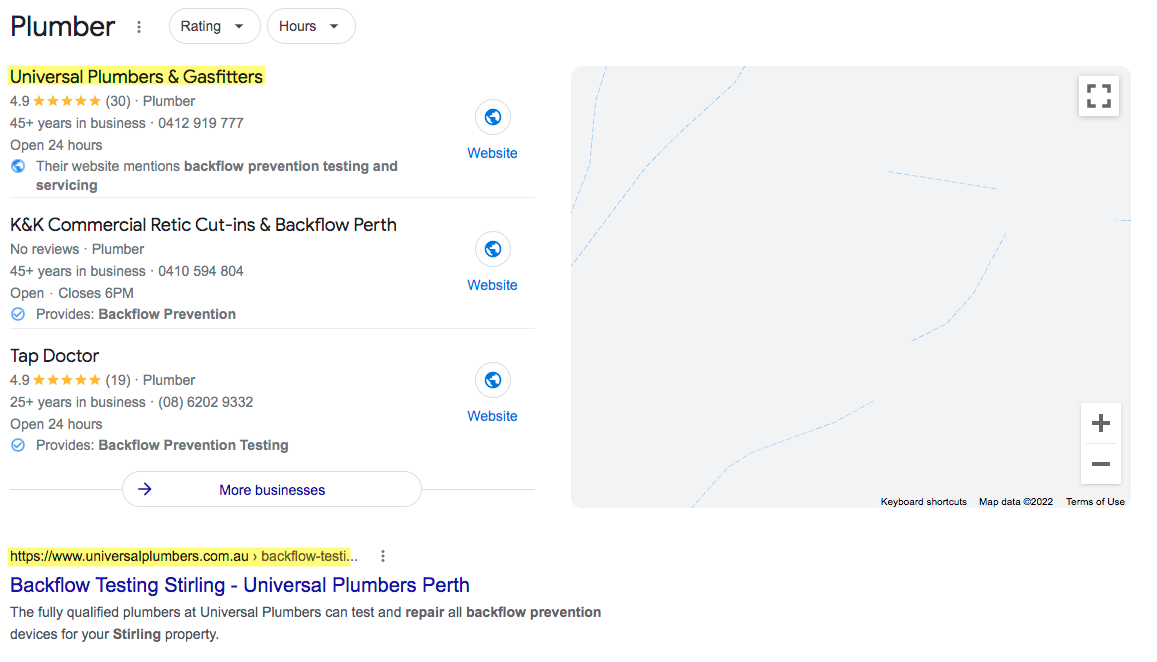 Google rankings are still moving up with the March - April growth being 10% for overall rankings.
Hot Water Systems Keywords
Hot water systems leaking, repairs and installation were the next set of keywords that we have focused on. These are also now climbing sitting at 2nd and 3rd spots on Google for surrounding suburbs.
We work on a month by month plan, creating new quality content, collecting and showing off great reviews and quality backlinks. We work with the client to ensure that the right and most effective keywords for their business are being targeted.
For example, with Universal Plumbers, we went very specific with keywords such as backflow prevention and servicing which was working very well but not the ideal work for the client so we discussed what jobs they prefer and hot water systems repairs, installation and leaks are the prefered jobs. We kept the other work completed but moved focus to hot water systems so that both keyword groups can work overtime to generate work for the client.
The combination of Ray's great Plumbing and Gasfitting work and our SEO program has really boosted rankings over the last few months.
If you work in a trade like Ray and you need some assistance getting your Google Rankings up we can help. Especially if you are paying thousands of dollars a month for SEO we can reduce that and do work each month. Read more about our SEO Program.