Your GTP 5-Point Web Site Guarantee
Exceeding your expectations is paramount to GTP Internet Commerce. As part of your new web site we give you FIVE rock solid guarantees to ensure your web site works hard 24/7 to give you results. At GTP we really do Guarantee to Perform.

#1 Money Back Graphic Design Delight Guarantee:
We will keep designing concepts for your web site until you are absolutely delighted with the design of your new site.

If we cannot design a concept that you love enough to approve, simply ask for your money back and we will hand back your deposit with an additional payment of $200 for your trouble.

#2 Delivered on Budget Guarantee:
What we put down in our quote is what you pay. We explain your total up front and ongoing investment clearly in our proposal. You will not have any surprise charges. If you ask for additional features not covered in your original proposal, we will provide you with an additional quote to make your upgrade decision easy.

#3 "On Time" Guarantee:
Once you have approved the web site design and we put in place a mutually agreed deadline, we will complete your site by this deadline (provided all feedback, design material and web page content for the web site has been supplied to us by you in a timely manner). If we can't make the deadline then we will inform you ahead of time, let you know what will be completed, and knock 10% off your web site setup investment.


# 4 Our "Re-Work Until it's Right" Guarantee:
At GTP, we commit to re-work any section of your site until you are completely satisfied with how the design looks and functions.

# 5 Website Results Guarantee:
This is our ultimate guarantee. We guarantee that within 12 months from launch your web site will be bringing significant benefits to your business. If you do not believe that your GTP web site has paid for itself several times over in new business to you, tell us and we will give you up to $1000 in credit towards your web hosting and content management licence for the following 12 months.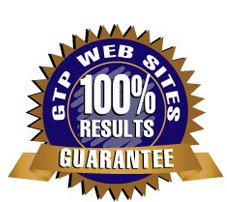 ---
Click to Contact GTP for Your Free Web Site Analysis and Internet Marketing Plan - Limited Positions