PERTH SETTLEMENT AGENT LOOKS TO BEAT RECESSION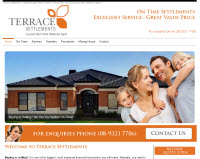 The continued economic downturn has hit just about everyone hard - including the property settlement industry.
With so much pressure on property prices, the property market has stagnated somewhat and owners have held onto their assets - unless of course, they have no other option than to offload. This has impacted on the conveyancing industry because transactions have dwindled, according to Perth settlement agents, Terrace Settlements.
A good test of business endurance however, is how well an organisation uses the lean times to put in place the systems, structures and skills to take advantage of the upturn when it comes. Similarly, the slowdown in settlements means that clients can shop around for the best deal and the best service - because business is highly sought after and the settlement agents will all be keen to handle the transaction.
A settlement agency is bound by law in terms of the maximum fee that they can charge for their services, but there is no minimum fee....so shop around for the best deal. Settlement fees are variable and take into account a number of elements including the value and type of the property, and whether the service is being provided to a buyer or seller (more work is involved in providing conveyancing services to a purchaser).
A settlement agent can also claim additional costs from clients such as search fees, phone calls, photocopying, faxes and other disbursements - and always get an itemised bill for these. During the downturn, clients may be able to negotiate discounts to these costs as well.
The economic crisis has meant that just about everyone is having to work extra hard for their dollars - and money doesn't come easily. So, if you're buying or selling property, it's never been more important to be choosy about your settlement agent - and to ensure you are getting the best service available - at the best price.
Things may be changing for the better however, with Landgate reporting the largest increase in activity in WA in six years in August 2011. Perth settlement agents will hopefully be smiling!
---
Click to Contact GTP for Your Free Web Site Analysis and Internet Marketing Plan - Limited Positions