Credit Card Payments Processed Online with Australian-Built E-Commerce Web Site Solutions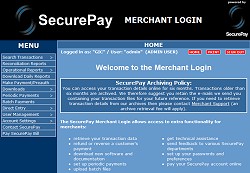 At GTP we can help you implement online credit card processing. Our e-commerce platform takes only 5 minutes to integrate with all major Australian banks using the SecurePay payment gateway. Let GTP organise your payment gateway so we can get your configuration details correct in the first instance.
10 Things You Need to Know About Setting Up Online Credit Card Verification
If you would like to process your credit cards payments online seamlessly integrated in with your GTP web site, then here is what you need to know!
You already must have a merchant account with an Australian Bank and are already accepting credit cards. (Don't have one? - Call GTP First on 1300 856 533 to discuss this and other options! Or look at first using our e-commerce and integrated PayPal solution)


We then establish an account with SecurePay for you. We can integrate with others but often at a cost of several hundred dollars to you. SecurePay is usually the cheapest option for you as it requires no work from us, so $0 integration.


Your annual cost depends on the volume of transactions on your site, but we can organise a plan that suits your business. It is best to call us on 1300 856 533 to find out the latest rates.


MasterCard and Visa-Card are established immediately on account setup.


AMEX and Diners can be added - You need to talk with Amex and Diners if you want to accept these cards, we will need to know when setting up your account so we can tell SecurePay to activate these cards on your account. (They can be added later if you don't have them at time of setup.)


You need to tell your bank that you wish to process credit cards online using SecurePay. Don't let them talk you into anything else. SecurePay are great, and better value than any others I've come across.


The bank will need to create for you another exclusive terminal id or provide existing terminal id details if you don't have any EFTPOS terminals currently attached to the one you have (i.e. you have a manual click clack machine with paper slips - very rare)


We will also need your merchant number details.


If there is anything else that we need, we will let you know.


The process takes 2-5 days to get completed once you have all your details, and assuming the bank has provided you with your terminal ID information, and set up their end in readiness for SecurePay Gateway.
Please feel free to call the GTP Web Design Team if you think you need to set up online credit card verification for your current or future web site.
An Example Enquiry and Response
The Question
Hi Dale

We would like to set up the online account with SecurePay to process our credit card payments. Can you please give me a quote for this? We would rather not use an EFTPOS terminal, we want the customer to be directed to a secure payment page where they enter their credit card details, and have the payment processed. I'm not quite sure how this works exactly, if you could advise me on the best way to do that, that would be great.

Also, Shane and I will go through the changes we want to make to the current website, and let you know probably next week.

Thanks for your help
Alison
The Reply
Hi Alison,

Thanks for your email.

We can set you up with a SecurePay account through our system for $495 per annum.

This will enable online processing of credit card payments. The process is to a)Tell the bank that you want to use your existing merchant account to process credit cards online USING SecurePay, and b) ask for them to allocate to you a terminal ID for this purpose. Also, make sure you know your merchant ID, as I will need this.

Once this is done, we will fill in the forms and give these to SecurePay who will enable the processing at their end. The bank may also need to flick a switch, and we'll insert the SecurePay codes on our end. Then you will be up and running.

Regards,
Dale






Questions on CC Verification for Conference Registration Forms
This is a set of questions that came in that asked lots of good common sense questions before making a decision.

Hi GTP, Thanks for getting back to me. I've let the other committee members know and they've got back to me with a few questions they'd like cleared up before we make a decision. So, here are the queries:

1) What is meant by 1500 verifications? Eg. If someone signs up for a workshop, the scientific programme, and the conference dinner - would this count as 1 or 3 verifications?

Each separate transaction is a verification whether successful or failed if placed at a separate time of the day. If I buy the three things above all at the same time on the one order form then this it is one verification. The analogy is that if I go through the checkout at Coles 5 separate times that's 5 verifications. If I go through once and they add the 5 items up for a total that is 1 verification.


2) What are the costs if we go over 1500 verifications?

If you are going through your block quickly we just invoice you for another block or we are happy to look at a partial block purchase so you don't have wastage. Everything keeps working even if you exceed the 1500 transactions so you wont lose any orders.

3) Does this option below mean that the money goes straight into our account i.e. there is no other processing required on our end?

YES the money will appear in your account the next working day. For example a Tuesday purchase shows up in Wednesdays online banking deposits.

4) Is there a way for us to refund credit cards through SecurePay if someone cancels their registration?

YES - you have login to SecurePay and full or partial refunding is easy using the interface. We have a SecurePay tutorial in our tutorials section which shows how to view all transactions and issue a refund.


5) Can their payment confirmation be turned into a tax invoice (i.e.
have our logo and address, ABN, item purchased, amount and GST amount (which will always be $0) and their name (and address - preferable but not necessary)? Our Treasurer will need to access the payees details as she will have to add details into our accounting package.

Yes we do this as standard now. The standard reply emails we send back are text, not html meaning that they are less likely to tagged as spam , however we do create HTML replies but the investment is additional depending on design options. The order information can be printed and re-entered into your accounting package or we do have an MYOB integration package available. MYOB integration needs to have some questions answered and is additional.


6) How quickly can we obtain access to the registration information? Can we do this directly ourselves, or do we have to go via yourself to get a report? We will need quick turn around on the info to supply caterers etc throughout the conference, so the more we can control our access to info the better.

Registration information is emailed immediately and also available in the orders area immediately. You need to login to access the orders area for security reasons.


7) How difficult is it to make any changes we need to the Conference Registration info?

We commonly set conference registration forms up so you can edit prices and some products within the form. There is usually a compromise between what you can edit and what we edit depending on how the registration form pricing works (and how the pricing changes as the conference date gets closer). The more flexible we make the forms, the more likely the initial setup investment is higher. If it is a one off conference then coding it up without lots of flexibility will require a greater initial investment. It it is a one off then we can code it out without the flexibility as its not really needed.

We've done a number of conference booking forms including accommodation options in the past so we are quite experienced in this area.

The other alternative is to use a shopping cart scenario but for conferences this is the cheaper but clunkier way to do it. It still works and people use it but my recommendation is to go for the full registration form to make it as easy as possible for registrants to register and pay.
If you have a question on credit card verification in Australia then please drop us an email.

---
Click to Contact GTP for Your Free Web Site Analysis and Internet Marketing Plan - Limited Positions