Kolbe Business Systems Perth. Getting Business Organised The Right Way: GTP Chosen to organise SEO.
By Dale Carter | Februrary 15 2010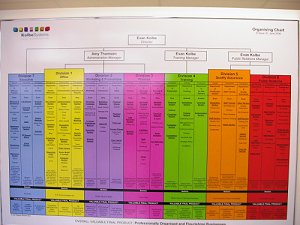 If you are a business owner that spends your evenings still working and your weekends catching up on all your jobs then Kolbe Business Systems is the solution you are looking for.

Most business owners have that quick thought of should I or shouldn't I document our business process? Well looking at this daunting task can be all consuming. Any way what guarantees do you have to say the staff are going to read them anyway? For most business owners the task of Business documentation and systemisation is firmly in the too hard basket.
Taking a walk through local Perth owned Kolbe Business Systems one tends to find a refreshing difference. These guys actually have transformed the impossible task of business documentation into a simple and fun process.
In speaking to Kolbe Systems Director, Evan Kolbe the first question a business owner asks. When should I be considering documenting my business?
"It's always sad to see a business out grow itself and loose control, particularly for the owner" Mr Kolbe says. "All the hard work has been done, but they generally end up creating a monster, the business ends up consuming them and the staff within it."

Having started the process of business systemisation with Kolbe systems, we can say that their process is truly unique to any business coaching or consulting we have ever experienced before. The real unique aspect is that Kolbe Business Systems does the work with you and you end up with a real tangible product at the end of it, instead of some advice that you remember only 10% of.

Give Evan Kolbe a call on 1300 005 356 for a FREE business walkthrough on how to revolutionise your business with effective business systems.

TAGS: Management systems | Organising charts | Business organisation | Business models | Franchise | systems | How to franchise |
Filing systems | Paper systems | Document control | Quality control | Continuous improvement | Business awards | Perth Management | training Perth | Business training Perth | Business Systems | Colby systems | Business flow charts | Job descriptions | Job Manuals | Staff Training Perth | Quality Assurance
---
Click to Contact GTP for Your Free Web Site Analysis and Internet Marketing Plan - Limited Positions