SEM: Generate Immediate Sales with an Effective Google Adwords Campaign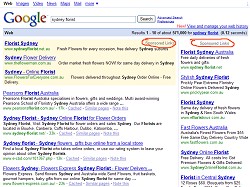 As an online paid advertising method, Google Adwords is one of the best search engine marketing (SEM) tactics around.
With Google Adwords you are able to create a campaign, target a specific geographic area, set daily and monthly budgets, and most importantly track the results of your advertising campaign.
Google Adwords is a great way for you to drive immediate traffic to your web site and check your web sites capabilities of converting visitors to clients.
How it Works
Let's say for example, that you run a florist site. You might opt to pay one dollar per visitor that Google sends to your web site. If one visitor in every 10 visitors makes a purchase from your online store, then your cost per customer is $10. If your average sale is $80, then your Google Adwords campaign is easily paying for itself.
The amount that you spend per visitor on your Google Adwords campaign will vary according to your industry and your average sale value. A real estate agent who earns $10,000 from the sale of a property might easily be able to spend a thousand dollars on Google Adwords per conversion, while a florist may only be able to afford $20-$25 per conversion before it is no longer worthwhile to advertise.
Make Sure You are Targeting the Right Keyword Phrases
While saying that Google Adwords is great, there are many things you can do wrong that can waste your budget. For instance, if you target the word "florist" and don't also specify the geographic area that you cover then you may have people who have no intention of purchasing from you clicking on your advert and costing you money. You would be much better off specifying the key word phrase "Sydney florist" if you were a florist shop in Sydney, for example.
Writing Effective Ads
While it might also seem that on Google, the more you spend the higher up the list you appear, there are ways of optimising your budget by writing Google Adwords that target specific keyword phrases and then sending your web site visitors to a specific keyword optimised page.
If Google thinks that the page that you are sending your Google Adwords visitors to is more relevant than a competitor's web page, you might well receive a higher ranking of your paid advert than your competitor. Therefore, setting up individual Google Adwords campaigns for each keyword is often a recommended strategy amongst pay-per-click marketeers.
It is also true that with Google Adwords, if your advert is more appealing, then your advert may also appear higher on the list than somebody who is willing to spend more. Therefore, getting your headline and ad-copy right in your advert is something that you will need to experiment with to see if you can get better results.
How GTP Can Help You in Your Adwords Campaign
At GTP we are happy to help you set up your initial Google Adwords campaign and educate you on how it works. We then recommend that you monitor your Google Adwords campaign initially on a daily basis and then on a weekly basis depending on your budget.
If you are like some of our clients who spend hundreds of dollars per day on their Google Adwords campaign, driving traffic to their web site and generating thousands of dollars in business because of it, then we recommend monitoring your Google Adwords campaign daily.
If, on the other hand, you are spending $100-$300 a month on your Google Adwords campaign, then you can check it weekly or monthly as you please.
Make Sure You Activate Google Adwords Conversion Tracking on Your GTP Web Site
In your GTP administration area you are able to add your Google Adwords and Google Analytics and other tracking codes, simply by copying and pasting the Google tracking code from your Google Adwords account into the sales tracking code area.
By adding in your tracking code, you will be able to see what your cost per conversion is in the Google Adwords web site.
Contact GTP to get You Started with Google Adwords
If you're looking to build a new web site, and want to make sure that you can implement and track the Google Adwords campaign on your web site. Please give GTP Internet Commerce a call on 1300 856 533 or fill in our search engine optimisation and marketing contact form. We can also help you set up your Google Adwords campaign.



Keywords: Google Adwords | Pay Per Click | Search Engine Marketing | SEM | Marketing Campaign |
---
Click to Contact GTP for Your Free Web Site Analysis and Internet Marketing Plan - Limited Positions