Fruit Boost to get A Boost with SEO from GTP
By Dale Carter | September 17 2009

Leading Perth Fruit Delivery company Fruit Boost was established in Western Australia in 2005 with a vision to build a company that would facilitate ongoing contributions to charitable organisations, and provide the premiere corporate fruit service in Perth.
Since developing an attractive new site, Fruit Boost found that their search engine rankings were not going anywhere and have asked web design and search engine optimisation company GTP iCommerce for a proposal on what we can do for them.
Managing Director Dale Carter has identified a substantial number of on page and off page SEO strategies that are not being applied or applied poorly that can be readily fixed.
GTP are looking forward to a fruitful relationship with Perths best fruit delivery and Western Australian owned Fruit Boost.
In 2008, Perth Fruit Delivery (Fruit Boost) proudly donated over $80,000 in fruit and funds! Keep up the support and referals so we can beat this record in 2009.

There are lots of ways our fruit makes you feel good!
Visit their site and try the fantastic service of fresh fruit delivered to your office to keep you and your staff healthy.
Ranking Results for Fruit Boost for "Fruit Delivery Perth"
September 17 2009 - Not on Page 1 or 2. SEO not started yet.

April 2010 - Page 1 Position 2 for "Fruit Delivery Perth" and multiple page 1 rankings for other office fruit delivery combinations.


Tags: Fruit Delivery Perth | Office Fruit | Fruit Breaks at Work | Workplace Fruit | Perth Office Health Strategies
Ranking Results for May 2010 for "Fruit Delivery Page" - Number 1 Achieved in Maps and Organic.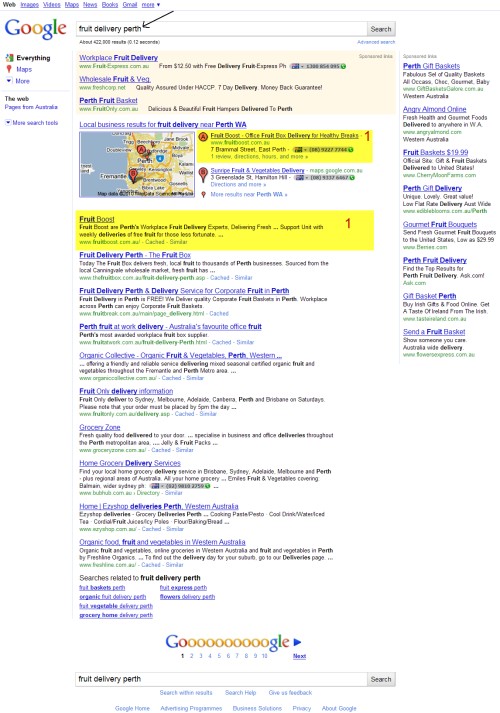 If you would like to get your web site onto Page 1 and then high on Page 1 then please call GTP iCommerce for a Free No Obligation Discussion of what we can do for you. Phone 1300 856 533 or go to our contact page.
---
Click to Contact GTP for Your Free Web Site Analysis and Internet Marketing Plan - Limited Positions