ANXIOUS ABOUT YOUR TEENAGER'S WHEREABOUTS? SLEEP EASY WITH A GPS TRACKER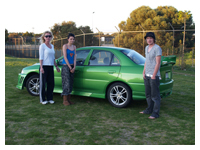 The world isn't what it used to be...especially if you're the parents of teenagers!.
The younger generation seems to have much more freedom and independence - plus the world is fraught with far more perceived danger - and keeping track of teens can be a hazard in itself. Who would have thought that a car track system would provide some peace-of-mind?
Many people are under the false impression that gps tracking is an expensive, sophisticated technology which is limited to commercial applications. In fact, they're widely used to keep track of a variety of mobile assets, from boats to cars, trailers to ....well, teenagers!
The advantages provided by a tracking device aren't only to give anxious parents peace-of-mind however - the youngsters benefit too. The features can include real-time location, an SOS panic button for emergency rescue and action, alerts for speeding or entering restricted areas and a listen-in option.
Where are your children going, who with, what time and will they be travelling too fast? These questions can all be answered with a gps tracking device.
The young aren't the only ones who could use a small, compact personal tracking system - it's perfect for the elderly, delivery drivers and couriers as well.
Don't listen to your children when they tell you that everything will be 'just fine' as they head for the hills behind the wheel of your car!. Instead, take heed of the words of a relieved parent, Yvette from Western Australia who says she worries less when her teenage son is on the road because of his mobile tracker which will sms her if the car travels over 110km per hour and if he is ever in trouble, he can hit the SOS button to let her know he needs help.
For more information, please contact www.fleetminder.com.au
---
---
Click to Contact GTP for Your Free Web Site Analysis and Internet Marketing Plan - Limited Positions