ANZ Bank Customers get credit card payments processed online with your GTP Australian built e-Commerce web site solution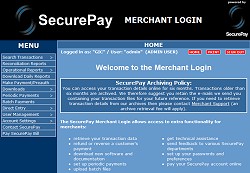 If you are an ANZ customer then the cost to set up SecurePay integration from the ANZ side of things with one of their products is a fixed cost $99 setup fee and a $29.95 annual fee. (Conversation with ANZ August 2007)

Your ongoing costs are the merchant transaction percentage which you should target for between 0.8% and 3%. For example if you take $1000 in payments, ANZ will take $30 of this at 3%.
You will also have to pay an annual fee for the payment gateway service provided by SecurePay, but we recommend that you talk to us direct as we are generally able to get you activated for a lower overall cost.
Don't forget that it's actually very hard to get a merchant account quickly. You'll have to submit quite a number of forms to the bank for them to assess your risk as a merchant. So give yourself at least a month to set up your merchant account. Once you have your merchant account it takes SecurePay from one day to three days to get your secure pay account established.
And remember that GTP's internet commerce website packages take literally five minutes to activate with your online credit card processing using our standard checkout procedure once you have a merchant account and we have established your SecurePay account.
For more information or to discuss your specific requirements, why not give GTP's web development team a call on 1300 856 533.
---
Click to Contact GTP for Your Free Web Site Analysis and Internet Marketing Plan - Limited Positions