Make Changes to Your Web Site Whenever You want to, with the GTP Content Management Software

Don't you wish you could make simple changes to your web site yourself? Well with GTP's iNews system you can!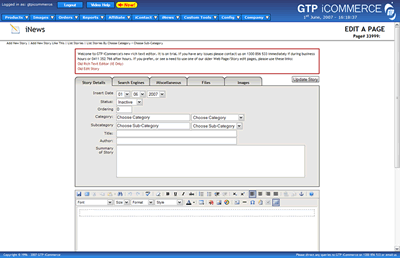 GTP-iCommerce have developed a web application that places your site in a database driven format, giving you...
Easy access to make changes to text, links, pictures, links to files.
The ability to upload images.
Advanced and flexible layouts achieved with minimal web page knowledge.
The ability to upload files such as Adobe PDFs, Word Documents and Excel Spreadsheets and link to them.
Ability to edit in wysiwyg mode or html mode.
Advanced wysiwyg table adding for more complicated page layouts.
Add New Pages with Ease
GTP iNews makes it simple for staff to log in and add new pages to their web site under predefined category headings.
Let's say you have a section of your site called "Latest News". When you want to add a new story, simply log in, cut and paste the text, attach any PDF or other files and click "Add". The new story instantly appears on your website, ready to be read.
Want to add pictures? No problem. With GTP iNews, you can browse your hard drive, and automatically upload any images you want to add. It'll then allow you to insert them and position them on your page.
Editing an already existing iNews page is even easier. Just log in, and make whatever changes you want to on the fly. They'll instantly be published to your website.
Flexible Templates
Want a fancy layout on your site, but don't have the know-how? Let iNews do the work for you! The iNews system is flexible enough to display your information almost any way you want. You can choose from an array of existing templates, or for a once-off fee we'll create a new one to your specifications. Just show us what you want it to look like, and we'll deliver.
Upload Files
Want to put your company newsletter online, but don't have the time or money to get it converted to a web page? No problem! GTP iNews can put the file online quickly and easily. Just log in, create a story and click the "upload file" link. iNews does the rest, uploading the file and creating a link to it on your web site. Images, Adobe PDF files, text files, even Word documents and Excel spreadsheets, iNews can handle them all.
Don't Take Our word for it
Kosmic Sound and Lighting uses iNews to manage their 80+ page website, which is rapidly becoming one of the most comprehensive music sites in Western Australia. Amity Oil use iNews to not only maintain and update their site, but to upload regular stock exchange reports for their shareholders. Read about these, and other iNews success stories in our web site Portfolio.
Or contact us now to discover what iNews can do for you!
---
Click to Contact GTP for Your Free Web Site Analysis and Internet Marketing Plan - Limited Positions