GTP will Build Your Site with Clean Search Engine Friendly Code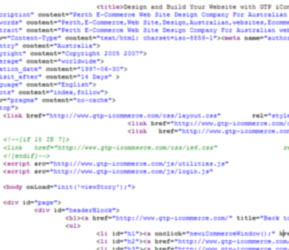 The third step in building you a highly successful web site with GTP is to carefully code your approved design to not only look and operate how you envisaged, but to make sure the coding conforms to search engine best practise coding methods.
At GTP we are masters of this and the results are clearly shown in the search engine rankings of our clients.
Your Web Site Code Needs to Consider What the Search Engines Like
There are a whole host of factors to consider when building clean search engine friendly web sites. Needless to say we don't use off-the-shelf web site packages such as Macromedia which tend to bloat your web site code beyond all recognition.
Our skillful programmers carefully handcraft your web site design using advanced cascading style sheet (CSS) methods so that we achieve the same great looking end result but with all the benefits of search engine friendly clean HTML code.
You will be Involved in Data Entry and Quality Control
Once your web site's design has been constructed, you will then be invited to review your emerging web site and participate in the loading of product content and general information.
The reason we ask you to be involved in the product data entry is because in most instances you know your product far better than we do, and how best to sell it. Rather than you giving us your information to re-enter, you will be able to enter this information directly using our easy to use content management system (CMS).
This will give you a chance to keep us informed as to any design or functionality issues that you are concerned about, new features, or specific processes we need to keep in mind that you may not have mentioned when we created the initial proposal.
For example, you may have realised afterwards that you did not want some of your products to be able to be purchased online. To solve this we would then enable you to tag which products you wanted to disable from being purchased, using our administration system.
Working Together we will Produce a Great Result
By working together through email and phone in a flexible manner, we will be able to solve your problems and deliver to you a first class web site that your company will be ecstatic about for years to come.
Would You Like a Quote?
If you would like a quote from GTP Internet Commerce on your new web site plans, then please give us a call on 1300 856 533 or fill out our online web site enquiry form.
---
Click to Contact GTP for Your Free Web Site Analysis and Internet Marketing Plan - Limited Positions