GTP Designs Your Web Site for Success - To Impress, Inform and Get a Response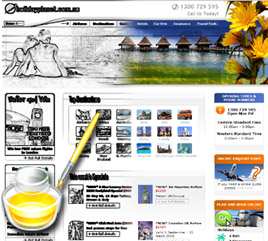 The design of your web site impacts on the perceived professionalism of your business. We've seen design makeovers have a huge impact on business sales resulting in higher sales conversions of clients generated from both your offline marketing and your online marketing.

The ability for your web site to convert visitors into subscribers, sales leads and buyers all hinge on the professional design of your site and the way information is laid out.
Web Design Delight Guarantee
At GTP, we believe it's so important to get your web site's design right, that we provide a "Web Design Delight Guarantee". We'll keep designing concepts for your web site until you are absolutely delighted with the results and provide approval for the next stage. If this means we switch designers, we do it. If we just simply can't delight you in the design department then we will refund you your deposit plus $200 for your trouble. We are even happy for you to bring a design to us to integrate with our comprehensive e-commerce and content management systems. We want you to love your new web site, because then we know you will use your web site properly to grow your business.
Not happy with your web design or site performance? Call for a free web site analysis and internet marketing plan on 1300 856 533
---
Click to Contact GTP for Your Free Web Site Analysis and Internet Marketing Plan - Limited Positions